It is the end of the month and I have read basically zero of the books I've checked out and that means they will still be here when all those books on hold come in and now I am in hold jail. Also, it felt like negative degrees this morning so I'm considering putting myself in apartment jail, too.
And then I remember that this time last year I was languishing in a freezing cold apartment, barely ever leaving my bedroom or even my bed and never the actual house. So I'm doing okay.
But I still have a shit-ton of books checked out and need to read much faster because I might die without having read them all.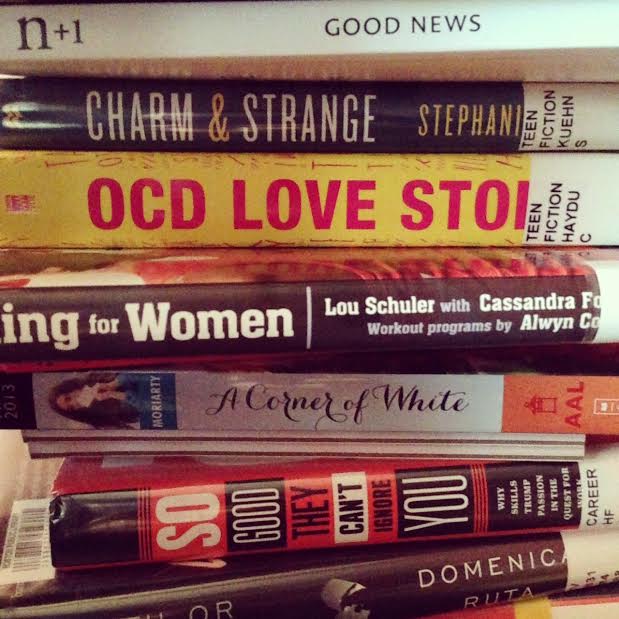 Checked Out
The Circle by Dave Eggers
The Antidote: Happiness for People Who Can't Stand Positive Thinking by Oliver Burkeman
Celeste and Jesse Forever [DVD]
Life After Life by Kate Atkinson
The New Rules of Lifting for Women by Lou Schuler
So Good They Can't Ignore You by Cal Newport
The Unabridged Journals of Sylvia Plath, 1950-1962 by Sylvia Plath
The Forest for the Trees by Betsy Lerner
Hyperbole and a Half by Allie Brosh
What the Most Successful People Do Before Breakfast by Laura Vanderkam
All the Truth That's In Me by Julie Berry
Belle Epoque by Elizabeth Ross
Beyond Belief by Jenna Miscavige Hill
Charm & Strange by Stephanie Kuehn
Daily Rituals: How Artists Work by Mason Currey
Dangerous Women ed. by George R. R. Martin and Gardner Dozois
Dodger by Terry Pratchett
The Drama of the Gifted Child by Alice Miller
The Essential Guide to Children's Books and Their Creators ed. by Anita Silvey
Freedom by Jonathan Franzen
The Girl Who Circumnavigated Fairyland in A Ship of Her Own Making by Catherynne M. Valente
In the Shadow of Blackbirds by Cat Winters
Mad Girl's Love Song: Sylvia Plath before Ted by Andrew Wilson
The New Rules of Lifting: Six Basic Moves for Maximum Muscle by Lou Schuler [for The Boy]
OCD Love Story by Corey Ann Haydu
The Portable MFA in Creative Writing  by the New York Writers Workshop
Sex & Violence by Carrie Mesrobian
Shadow & Claw by Gene Wolfe
With or Without You by Domenica Ruta
On Hold
The Encyclopedia of Early Earth by Isabel Greenberg
Far Out Isn't Far Enough: The Tomi Ungerer Story [DVD]
Afternoon Delight [DVD]
Sea of Hooks by Lindsay Bell
Eleanor & Park by Rainbow Rowell
This is Where I Leave You by Jonathan Tropper
My Education by Susan Choi
Five Days at Memorial by Sheri Fink
Hild by Nicola Griffith
The Way, Way Back [DVD]
The Signature of All Things by Elizabeth Gilbert
The Goldfinch by Donna Tartt
20 Feet from Stardom [DVD]
Philomena [DVD]
The Butler [DVD]
Dallas Buyers Club [DVD]
Game of Thrones Season Three [DVD]
Captain Phillips [DVD]
Blue Jasmine [DVD]