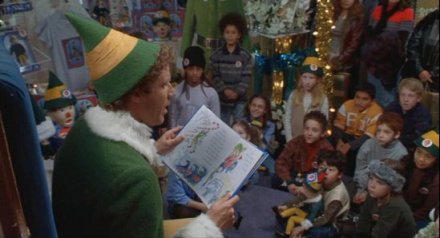 Tis the season for the End of Year Book List. In my particular social circles, I am hearing definite grumbles of list-related discontent. Too many lists. Too many books. The same books on every list. Heck, even the listmakers are grumbling, never mind the general vitriol toward lists themselves.
Well, just call me the Buddy the Elf of the End of Year Book List. Y'all are scroogey. Considering the consumer-advertising-madness that is American holiday shopping in general, I'm happy to see the media devote extra attention to books. Canonicity – whether it be a list, an award, or a blurb – will still be there in January for everyone to examine/tear down/kvetch over.
I say this in preparation for my own End of Year book extravaganza. The Canon of Jessica, as they call it. The fun will begin in a few short days! Be patient! Be prepared! Bring your holiday cheer!
Ho, ho, ho!
While you wait, enjoy The Ghosts of Book Lists Past