Awards season! Awards season! Yay! Rah!
Someday My Printz Will Come is back up and running and they've posted their Long List of titles they have deemed contenders for the Big Prize in January. I'm not sure what to make of this year's YA crop. Last year there were some favorites, but the winner – Nick Lake's In Darkness – was a bit of a dark horse. This year, I can't even pin down any frontrunners, really, other than Books That Won Other Awards. And statistically, that's probably even LESS of an indicator that those titles will win the Printz. Pretty sure the same book has never appeared on the NBA longlist, the Boston-Globe Horn Book AND the ALA awrds, but feel free to cross-reference that wild claim.
Here is a short round up on Printz-y type titles. Will you look at all these I have read? Aren't you guys proud of me? I actually had trouble selecting some titles I still want to read because I am just a damn overachiever this year.
These ones, I have read…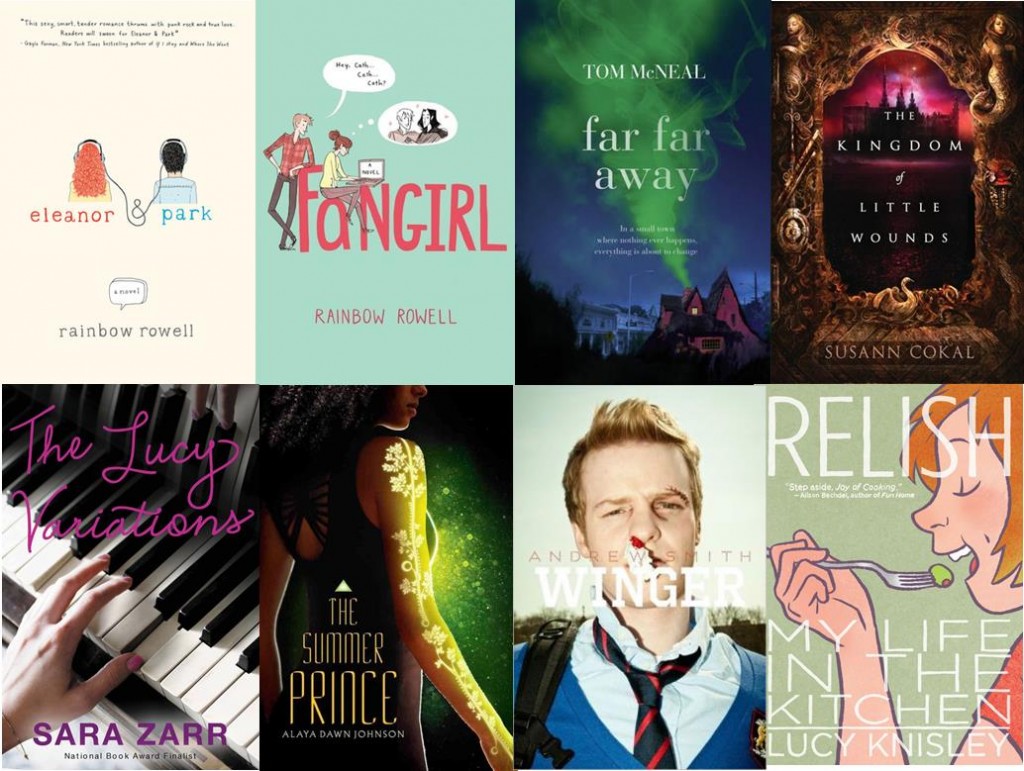 Eleanor & Park by Rainbow Rowell
This might be the closest to a favorite this year. I am in favor of this because A) I love when quiet contemporary romances get awards attention B) I love Rainbow Rowell. My review from way back when here. Which reminds me, I would like to do a re-read soon, maybe early 2014. I'll pencil it into my agenda.
Fangirl by Rainbow Rowell
As I mentioned, I think I liked Fangirl more than E&P. However, I am skeptical of this book's Printz legs, if for the only reason that it is indeed set in college. That doesn't bother me, but I would think this might give a committee pause, especially when E & P is also on the table. I'll be looking forward to the discussion on Someday my Printz will Come. Review here.
Far, Far Away by Tom McNeal
This has to be the most audience-bending book of the year. It is narrated by the ghost of Jakob Grimm, who speaks very much like a 19th century academic. Adult. But the story Jakob tells is about a young-ish boy who lives in a little town that feels like a fairytale. Juvenile. But there's all sorts of ominous, potentially violent tension…. YA? I have no idea. Review to come.
The Kingdom of Little Wounds by Susann Cokal
The Kingdom of Little Wounds definitely has the literary legs to get Printz attention. Why do I keep saying "legs" in this post, like a that is a legitimate way to talk about books? Or anything? I don't know. It's 6:30 a.m. on a Saturday. My brain doesn't have the legs to function yet. Here's a post from when I was slightly more cognizant. Emphasis on "slightly"
The Lucy Variations by Sara Zarr
Read this for a professional review this year and really enjoyed it. Not that it's relevant, but I think Sara Zarr is generally under-awarded. Not that ANY of the criteria I've been talking about is relevant.
Relish by Lucy Knisley
Alright, I liked this book. I like Lucy Kinsley's work a lot. But I don't think it's going to be on the committee's radar – it's not published as YA, and I think the adult, nostalgic perspective is pretty un-YA.
The Summer Prince by Alaya Dawn Johnson
A complex dystopia/post-apocalyptic story about art and rebellion that acknowledges race. This books has a lot of strengths, but I've heard some talk that the world building isn't accurate or respectful of Brazilian culture, so maybe that will hold The Summer Prince back? Longer review to come, perhaps
Winger by Andrew Dean Smith
Every awards committee loves a good boarding school book, right? Here's my review for more on Ryan Dean West. Let's also talk sometime about how there are very few boarding school books with female leads, okay?
These books have been added to my to-read list…

Boxers & Saints by Gene Luen Yang
It's Gene Luen Yang. It's epic and graphic. It's not one, but TWO books. Can anything stop Boxers & Saints? Well, the fact that it is two books might, unless one is clearly stronger than the other.
Charm & Strange by Stephanie Kuehn
Charm & Strange seems to be one of those problem-novel books in which the main characters "problems" may be either pathological or supernatural. I can get behind that. Like Justine Larbalestier's Liar, or even Edward Hogan's Daylight Saving. madness, though,
A Corner of White by Jaclyn Moriarty
Let's talk later about how I don't think I like Australian YA and why that makes me feel vaguely racist. I will say, though, after attending a conference this weekend where Moriarty's editor talked at length about this book's strengths, I have bumped it up on my mental to-read queue. It helps that I've had a copy on my desk for months.
Forgive Me, Leonard Peacock by Matthew Quick
Is this book on the list because of it's literary merit? Or is Mr. Quick still having his post Silver Linings Playbook "moment?" Eh, who cares. I think he deserves a moment. Also add this to the list of Books I've Had On My Desk for Months.
A Moment Comes by Jennifer Bradbury
And now for something completely different: historical fiction set in India. Is this the kind of book I think I should read, or the kind of book I will actually read? Or both? Or neither. More importantly, is it Printz-worthy? Are any of these? Are we all just barking up the entirely incorrect tree and come January, a herd of Dark Horse YA Books will appear on the list? Are we done asking rhetorical questions?
Yes. Yes, we are.