Staying ahead of the game in the YA world is a bit of a losing endeavor, for me anyway. There's just so much of it, so much hype to sift through. Also, I don't like reading galleys on my eReader as much as I should. Also, I'm picky. Also, I'm easily distracted by shiny adult books and re-reading my favorite old books and shiny objects. Like my kitchen. My shiny new kitchen. Who needs books when you've got a shiny new kitchen?
But I do digress. Here are some new YA books that have caught my eye – perhaps I will read one standing up in my shiny kitchen.  While stirring a risotto. Or something else not so pretentious and annoying.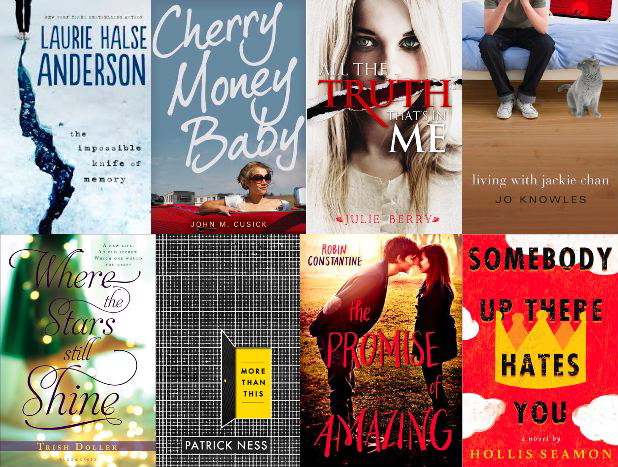 The Impossible Knife of Memory by Laurie Halse Anderson
Let's get the easy one out of the way. A new Laurie Halse Anderson is always worth noting. Especially her YA realism. I mean, her historical middle grade is good, too, but come on. Speak? Catalyst? Wintergirls? That's where the goods are. I kind of want to re-read all three just after listing them here. See how easily distracted I am? This one doesn't come out until January, though, so I have plenty of time.
Cherry Money Baby by John M. Cusick
Cusick's first novel, Girl Parts, wasn't too bad. But if I could choose between reading a book that features robot girls created to please teenaged boys and books that don't feature robot girls, I will choose the latter. Cherry Money Baby sounds like a fun, robot-free romp with a fun Hollywood twist.
The Truth That's In Me by Julie Berry
Creepy historical fiction about a mutilated girl and a semi-religious cult. Yes please. However, I am bothered by the cover. That girl just doesn't look historical whatsoever. I don't even know which era this book is supposed to be set, but unless the era is 2001 then I don't buy it. Unless 2001 is considered historical fiction now, in which case heaven help us all.
Living with Jackie Chan by Jo Knowles
Four years ago, I read Knowles's Jumping Off Swings, and I really did enjoy it. In fact, it made it to my top ten reads of 2009! This is a companion novel, a spin-off even, following one character from JoS – the teen dad, who was probably my favorite character of the bunch. Probably everybody's – he was just so… misunderstood. Confused. Bereft. And now he gets his own book. I'm digging it.
Where the Stars Still Shine by Trish Dollock
Look. I wanted to read this book. It got some good reviews. It's got a decent cover. But I am not quite sure I can read another YA book about a girl whose crazy mom steals her away and they live a life on the road. I'm just done. For a moment. There is officially a book on this list that I don't want to read.
More Than This by Patrick Ness
I spent a bit of time living with a Patrick Ness-aholic. As in she bought British editions from Amazon.uk before they were released in the US, and went into a very short-term depression when she found out he was gay. I tried to read The Knife of Never Letting Go, but at that point I was so over dystopias and couldn't handle it. Maybe in five or six years my anti-dystopi-osity will fade and I can try again.
Nevertheless, there's a new Patrick Ness coming out this fall. I'm sure it will be a little weirder than realism, but probably not a full-blown dystopia. I also had the good fortune to hear the first chapter read aloud a few months back and I was considerably hooked. AND, I have an ARC! A paper ARC! All signs point toward me reading this book while stirring risotto.
The Promise of Amazing by Robin Constantine
Obligatory cheesy romance. Still on a never-ending search for authors who do romance the way I like it. That sentence sounded pretty creepy.
Somebody Up There Hates You by Hollis Seamon
While in grad school, I spent a summer interning at an independent publishing house. Ever since then, I've had a bit of a soft spot for independent presses – they get a little more editorial freedom, get to take risks, and get to build a personal "brand" a little more readily than other houses. I was super excited to see that Algonquin was launching a YA imprint, and this was the title that caught my eye. It's a really sad book about dying teenagers! Just like some other book I've heard of, can't remember the title. Anyway, independent presses = cool. Dying teenagers = not cool. I don't know. This list has gone off the rails. Goodnight and good luck, guys. Read a book.