I love a good memoir. Something about the pouring of the psyche onto the page is intoxicating. You can be famous and interesting and wise . You can have a completely boring life and do one interesting thing for a week or so.. You can be a questionably moral person. If you write a good memoir, it's all good.
Actually, I sometimes love a bad memoir, too, especially if they involve Addiction or Fundamentalist Religions.. Ghostwriter-schmostwriter.
I'm currently listening to Monkey Mind: A Memoir of Anxiety by Daniel Smith on audio, and while the subject matter is awkward, extremely personal, and sometimes painful, I'm digging it. Because Awkward, Extremely Personal, and Sometimes Painful are the stuff of the decent memoir, right? Here are some more memoirs that have caught my fancy recently: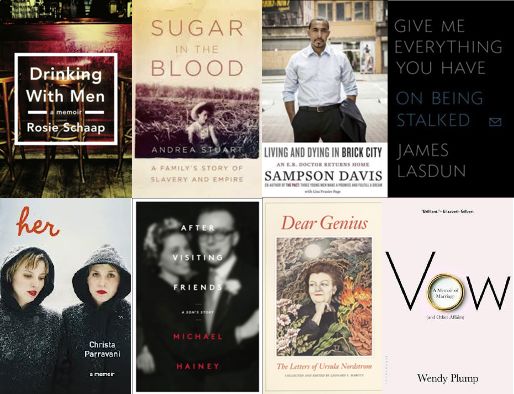 Drinking with Men by Rosie Schaap
I am a raging introvert who values a certain level of feminine propriety in my daily conduct. I am the last lady to drink in a bar alone. One our friends from Michigan moved here, to Boston, a few years ago without a clear trajectory other than to enjoy the fruits of City Living – one such fruit, for him, was Becoming A Regular At A Bar. I was judgmental, but time passed, and heck if he didn't succeed in making some charming neighborhood bar friends. One of them helped me move into my apartment. My third story apartment. That is something special.
Rosie Schaap is a lady who seems to understand this something special, and while I won't ever be a lady to drink in a bar alone, I might read her book while drinking alone on my couch.
Sugar in the Blood by Andrea Stuart
An examination of the author's complicated family heritage, spanning generations, moving from country to country, and wrapped up in the business and exploitation of early America. This is the kind of book that fascinates me – part history, part memoir – but that I don't know if I ever *read*. Although I will say, just typing that last sentence made me want to put it on hold and prove myself wrong… because that's a reasonable way to aim your incessant sense of competition, naturally. Outread yourself.
Living and Dying in Brick City: An ER Doctor Returns Home by Sampson Davis
So, there was a little bit of time when I was in love with Atul Gawande and all I wanted to read was doctor memoirs. This may have also coincided with the longer bit of time when I watched Grey's Anatomy reruns on a nightly basis. Since the words "ER Doctor" occur in the title of this memoir, I hope there is some medical drama, but this memoir looks like it focuses on the social issues surrounding Davis as he returns to his hometown of Newark, NJ after defying all sorts of odds to leave.
Give Me Everything You Have: On Being Stalked James Lasdun
I don't know about you, but pretty much anytime I hear a dude talking about his "crazy ex-girlfriend," I wonder what kind of douchey things he did to her. Surely, there are at least a few. That being said, I could listen to the other side of the story if it's in the form of a dishy memoir. Lasdun didn't have a romantic relationship with his stalker, but there seemed to be some conflation of a professor-grad student relationship. Scandalous!
Her: A Memoir by Christa Parravani
Parravani's memoir focuses on her relationship with her twin sister, Cara, as they grew up together children of a single parent, found success as artists, and Cara's subsequent downward spiral. If one of my sisters died, I would absolutely lose my shit; I will probably read this and just weep and weep and weep.
After Visiting Friends by Michael Hainey
I could really label any memoir with a needlessly specific category. This one I would call a Solving A Family Mystery That Has Obviously Done Some Emotional Damage to the Author memoir. Hainey's father died when he was a child, under circumstances that were innocuous but lacking significant details. After a lifetime of wondering about those details – and dealing with the pain and grief that accompanies living without a father – Hainey sets out to put the mystery to rest.
Dear Genius: The Letters of Ursula Nordstrom by Leonard Marcus
This is probably the least memoir-y of the bunch, and it was published in 2000, but Recovering Grad Student me is fixated on its existence. For those of you who aren't exceptionally nerdy kid lit junkies, Ursula Nordstrom was the head of Harper & Collins children's book division from 1940 to 1973. She had a tremendous influence over the books we now consider children's classics, and the way we think about children's books today. Do I want to read her correspondences with these authors, illustrators, and other kid lit legends? OF COURSE I DO.
Vow: A Memoir of Marriage and Other Affairs by Wendy Plump
I am getting married in six months. Good idea: reading memoirs of marriages to prep my mind to what is in store.
Bad idea: reading memoirs of marriages fraught with infidelity and extra-marital children.
We'll see which side I land on.