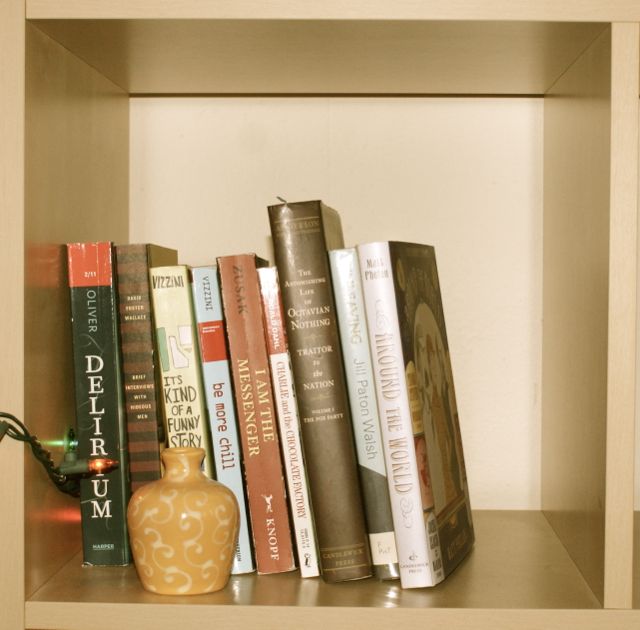 This edition of the Library Card Exhibitionist comes with the following complications:
1) On December 6th, I checked my account and noticed that a VAST majority of my checked out books were due on December 7th. And a frightening majority of that majority hit up against the five renewal limit, or were requested by other patrons.
I have a bad back/neck/shoulders, so to maintain my health and happiness, I am now sticking to a strict "No More Than 2 Books in Your Purse" rule. Unless I can trick The Boy into serving as my beast of burden with a full back-pack, I am doomed to overdue hell for awhile.
2) On December 3rd, I put a random hold on yet another book that caught my eye for one second and I thought about the shelf of (soon to be overdue) books on my shelf at home and I said to myself "JESSICA YOU ARE OUT OF CONTROL." I have put myself in Hold Jail for awhile. I mean, I went ahead and put any books that I simply MUST read on hold on December 3rd, but other than that, I am done for awhile. I am not sure when I will be released from jail, but it will be awhile. It is about Kid Lit awards time, too – please admire my restraint. Or question my adherence to arbitrary, self-imposed rules, whichever you deem more appropriate.
Anyway, I am a neurotic librarian who needs more meaningful hobbies, but on with the show?
Checked Out
The Statistical Probability of Love at First Sight by Jennifer E. Smith
The Checklist Manifesto by Atul Gawande
The Particular Sadness of Lemon Cake by Aimee Bender
Rules of Civility by Amor Towles
You're Not Doing it Right by Michael Ian Black
Blizzard of Glass by Sally M. Walker
Eclipse by Stephenie Meyer
Well Fed: Paleo Recipes for People Who Love to Eat by Melissa Joulwan
Tiny Beautiful Things by Cheryl Strayed
The Truth About Forever by Sarah Dessen
Dead End in Norvelt by Jack Gantos
The Plant Hunters by Anita Silvey
Ask Elizabeth by Elizabeth Berkley
Girls Like Us by Sheila Weller
The Molasses Flood by Deborah Kops
Kamakwie by Kathleen Martin
Life as We Knew It by Susan Beth Pfeffer
Martha Stewart's Homekeeping Handbook by Martha Stewart
Rookie Yearbook One ed. by Tavi Gevinson
Superman versus the Ku Klux Klan by Rick Bowers
Temple Grandin by Sy Montgomery
This Lullaby by Sarah Dessen
Titanic: Voices from the Disaster by Deborah Hopkinson
Anna and the French Kiss by Stephanie Perkins
Motherland by Amy Sohn
The Raven Boys by Maggie Stiefvater
Checked Out and Overdue (!)
The Impostor's Daughter: A True Memoir by Laurie Sandell
Silver Sparrow by Tayari Jones
Dinner: A Love Story by Jenny Rosenstrach
On Hold
Brazen Careerist: The New Rules for Success by Penelope Trunk
Carnet de Voyage by Craig Thompson
Marbles: Mania, Depression, Michelangelo, and Me by Ellen Forney
Meant to Be by Lauren Morrill
Nice Girls Don't Get the Corner Office by Lois P. Frankel
The State: The Complete Series
Steal Like an Artist by Austin Kleon
The Little Book of Talent by Daniel Coyle
Paleo Slow Cooking by Chrissy Gower
It Starts with Food by Dallas Hartwig
Daring Greatly by Brene Brown
Love and Other Perishable Items by Laura Buzo
Get Some Headspace: How Mindfulness Can Change your Life in Ten Minutes a Day by Andy Puddicombe
The 12 Tribes of Hattie by Ayana Mathis
Building Stories by Christopher Ware
Days of Blood and Starlight by Laini Taylor
The Middlesteins by Jami Attenberg
Bared to You by Sylvia Day
The Smitten Kitchen Cookbook by Deb Perelman
The Signal and the Noise by Nate Silver
How Children Succeed by Paul Tough
Fifty Shades Freed by E.L. James