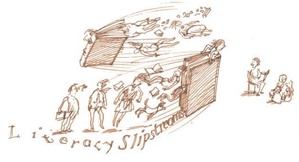 One of the best things about living in Boston? You don't have to travel to cool events – cool events come to you. I've been to two Boston Globe-Horn Book Award ceremonies, a BG-HB One Day Childrens' Literature Colloquium, an ALA Midwinter Conference, a Simmons Children's Literature Symposium, tons of author events at libraries and bookstores… some non-book things, too, but oh, who can remember those…
This week is the Children's Literature Association's Annual Conference. Three days of children's lit academia – presentations and papers from some of my dearest classmates and friends, as well as from critics I've quoted so many times in papers, they have become bona fide celebrities in my mind.
I am not only attending, but volunteering! I will be absorbing some last drops of children's literature study, hanging out with friends, and snapping photos, all from the comfort of my own school – I'll be the lady with the camera!