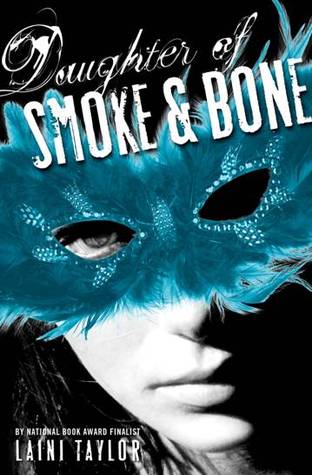 As I've alluded to around these parts, I am trying mightily to be a better reader of fantasy and science fiction. I don't think I am likely to ever swoon over world-building and magic-wielding like so many of my friends do because, well, I didn't grow up on it. But I can build up a tolerance, I can find what I like and assess what teens and other readers like, and I can give books a fair chance no matter the genre. Acknowledging one's biases. Book equality. Broadening horizons, etc.
I want to say that I picked up Laini Taylor's Daughter of Smoke and Bone with a spirit of equanimity, but I didn't. I knew this book was special because my roommate told me about it. She knows I don't like fantasy, so she doesn't tell me about all of them. And then Janssen at Everyday Reading – who is also generally anti-fantasy – not only raved about it, but gave it to her husband. As someone who carefully doles out YA books to her own not-so-fictionally-inclined male partner, I know the weight of that move. It would have to be an exceptional read to pass along something so fantasy-y.
Now, months after the buzz has died down, I pick up this book and completely fall into the story. The heroine, Karou, is a teen living in Prague, studying art. She has her own apartment. She has tattoos. She has blue hair. She has a nasty ex-boyfriend. She has an assortment of artsy friends and a macabre, divey restaurant where they all like to sit around a coffin and eat borscht. I was suprised by how normal and likable these characters were, despite the novel's unusual setting and the heroine's unlikely living situation. The real-ness of the characters was put even further into relief when we learn that Karou is an orphan who grew up in a magical workshop of sorts, inhabited by creatures who are kind, protective, and obviously love Karou, despite the fact that they are very clearly not human. Karou's "father" – Brimstone – runs the show, dealing in a sort of magic that requires a steady supply of teeth – human or animal; when she's not sketching in her notebook, she's off on Brimstone's errands, traveling around the world to meet up with teeth traders, and she is paid with wishes.
The "otherworldliness" here is complex, but what keeps the story interesting is that we never know more than Karou knows, and she's been kept in the dark regarding this magical business for her entire life. As she uncovers the secrets of the teeth, the wishes, the chimaera, and Brimstone, we too discover another layer to this fantasy. And yes, there is a boy – an angel, actually. About halfway through the book, this story does become more of a paranormal romance (yeuch…). When Akiva starts following Karou around, I was like "oh great, you're falling in love with an angel, please gag me now), but Taylor weaves this romance into something that is more than just attraction, more than a vague, unconvincing "We Are Meant to BE!", but something wound up in the rest of the book's mysteries, a love that is entangled with war and memories and mysticism. At the end of the book, I was swooning, I was convinced.
And the ending! This was what I remember my roommate raving about – the ending. It's a series, yes, but the ending combines satisfaction, surprise, and a cliffhanger – it makes you certain you will read the next book without feeling cheated.
In other words: yes, this book made me forget that I don't like fantasy. And yes, I will be passing it along to my own man-partner. It is that special.