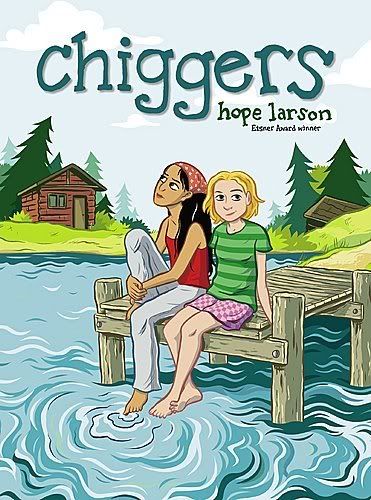 I hope the title of this book won't send anyone screaming. I mean, it sounds like a gruesome, B Movie about some mutant bugs to me. But just look at the cover! It's obviously not frightening – it's a book about summer camp.
Did any of you guys go to summer camp? I did. Willingly. For six consecutive summers. And just like the camp that Hope Larson draws, my summer camp was full of rituals, friendships, and that freeing sensation that you are A) away from your parents and B) away from civilization. Oh, but it's also full of gossip and pettiness and, of course, boys.
I enjoyed this book for its nostalgia, for its delicate portrayal of the middle school girl psyche (which is often completely stereotyped in books designed for them – anyone read Clique?), and as a simple, summer story. The illustrations are a blend of realism and that thick outlined cartoonish style that I'm so very fond of.
Buy this book for: the thoughtful 11-13 year old girl in your life. It's a rare find – a book mature enough for an avid reader, but without the brand name dropping or sex-craziness that scares off parents.